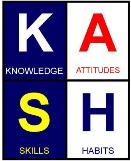 KNOWLEDGE
*Knowing WHAT to DO
ATTITUDE
*Desire to TAKE ACTION
SKILLS
*Knowing HOW to DO
HABITS
*The DOING
What actions are you taking on a daily, weekly, monthly basis to bridge the KNOWING / DOING Gap? You are excited to share your knowledge, skills, and expertise with your customers and clients. You know your Competitive Edge ~ problems you solve . . . value you bring . . . why do business with you. Your WHY provides the passion, purpose, and mindset to develop habits.
Based upon your overall Strategic Business Framework, Vision, Core Values, Mission, and Competitive Edge, you have the opportunity to work both "IN" and "ON' your business to drive customer loyalty and results.
If your KASH Box isn't as FULL and abundant as you'd like, how are you engaging in lifelong learning, self-care, goal setting and achieving to be efficient, effective, productive, and accountable?
Choose to invest your time and energy in activities to achieve the results YOU desire!
Work Smart . . . Achieve Results . . . Celebrate Often!